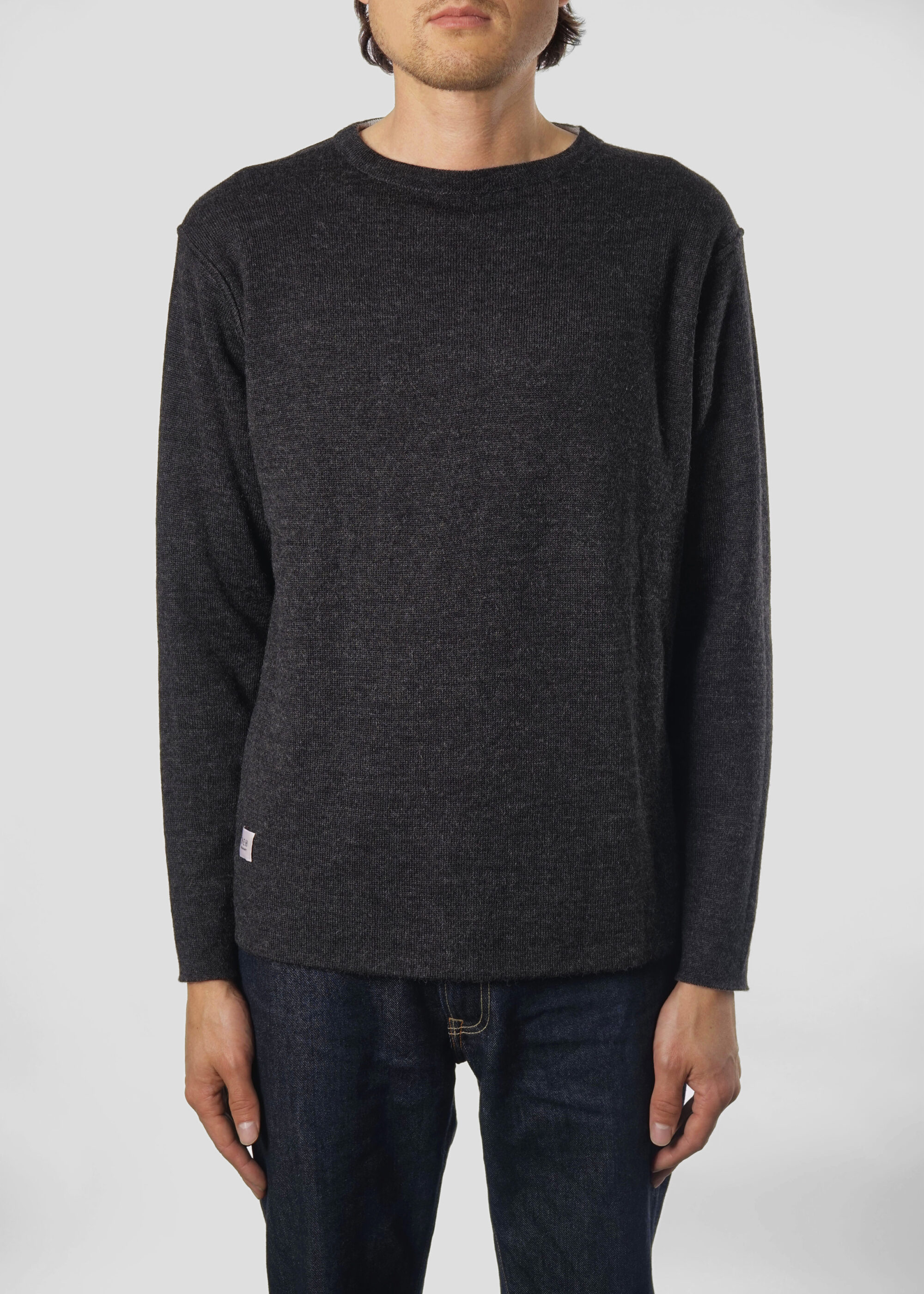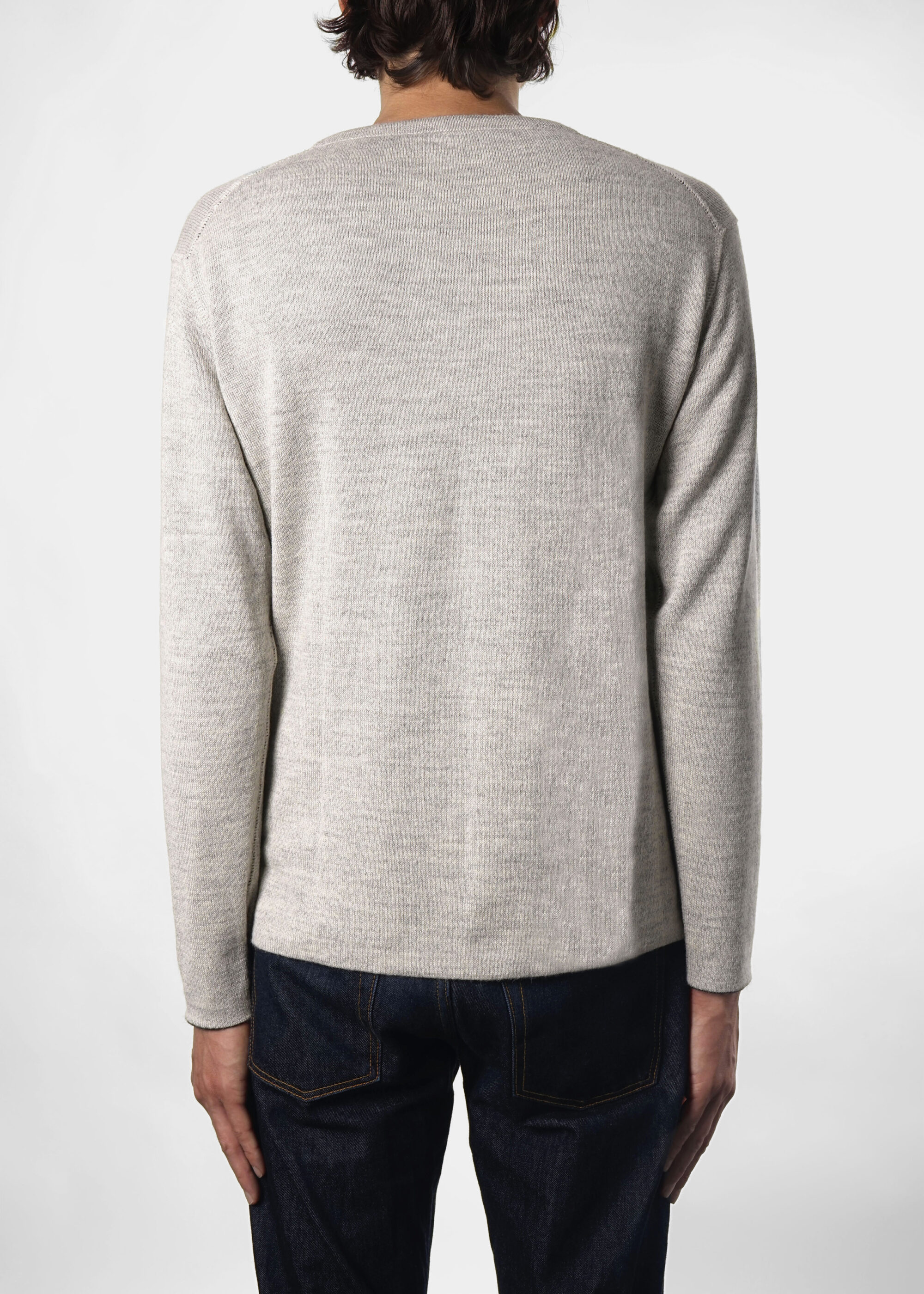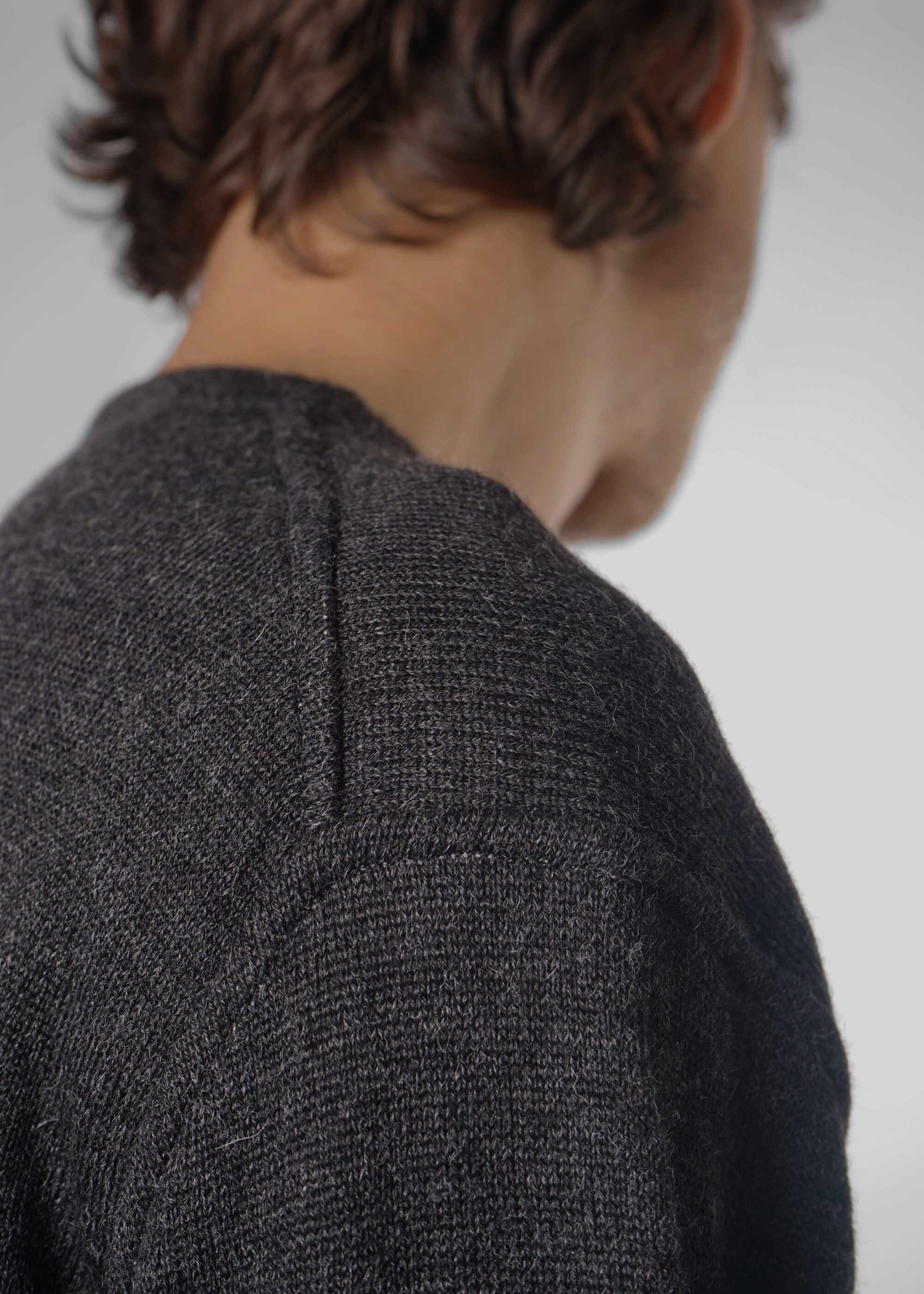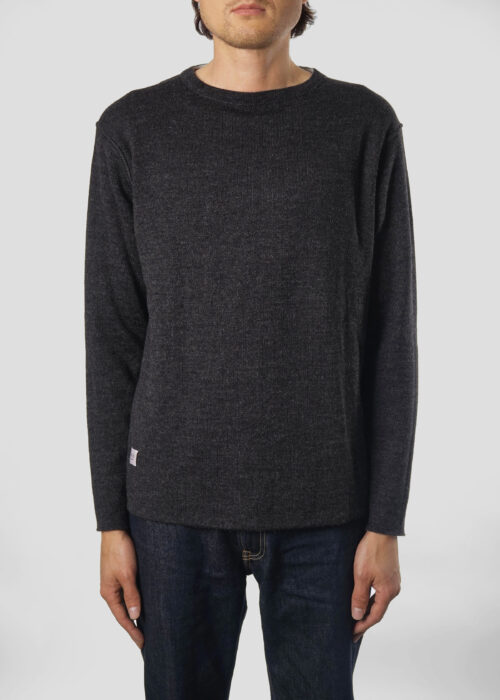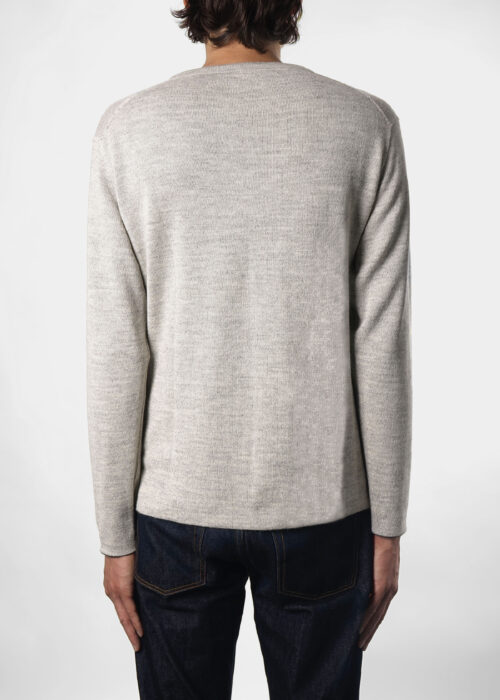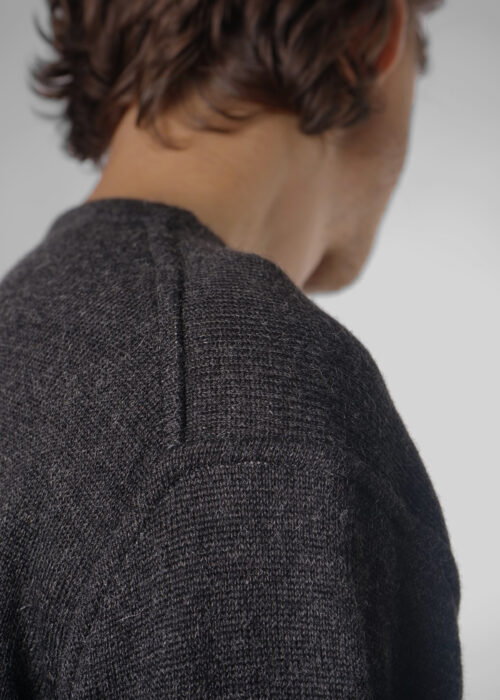 »Sontag« Reversible Sweater Baby Alpaca | Grey
N° CKN3M
Made in Peru
Description
The reversible men's sweater »Sontag« in light grey and dark grey is made of 100% Baby Alpaca by REH (GERMANY). Thanks to the 2-in-1 reversible design, this scarf can be effortlessly worn on both sides, offering even more wearing versatilty for everyday life. The natural, silky-soft baby alpaca fibres provide thermoregulating and allergy-friendly wearing comfort. The »Sontag« sweaters pays tribute to the American writer, director and human rights activist Susan »Sontag«. In her portraits she often wore knitwear and later had a characteristic hair style featuring different shades of Grey.
Complement this scarf with the matching »Sontag« scarf and beanie to create a timeless and permanent aesthetic.
Details
Reversible doubleface knitwear
2-in-1 Design for wearing on both sides
Folded knit bands
Regular french seam sleeves
Round neckline Natural elasticity through jersey knit
Thermoregulating
Allergy-friendly
Care
To ensure the longevity of our 100% natural alpaca knitwear, please follow these easy care instructions:
Avoid Washing
Alpaca knitwear naturally neutralises odours, so washing is not necessary.
Instead: Steam or steam iron the alpaca knitwear regularly
Air by the window
Hang in a steamy bathroom
Place it in the freezer
Use Organic Dry Cleaning Services
If Washing is required
Hand or machine wash with cold water (30°C).
Use organic Wool Detergent
Lay flat to dry
Avoid wringing
Do not tumble dry
Stain & Pilling Removal
Use Organic Dry Cleaning Services
To treat stains, gently spot clean using palm oil free curd soap/ vegan gall soap and a damp cloth.
Note: It's important to thoroughly rinse out all the soap residue using water and a clean cloth, as any remaining soap can potentially cause additional stains
Pilling refers to the formation of fiber nodules on the textile surface, typically occurring in areas with friction, such as where the arms touch the upper body or on the lower back. It takes a long time and a lot of friction for pilling to form on alpaca knits. Compared to finer Baby Alpaca knits, 100% alpaca is much less prone to pilling. It's recommended not to use a pilling shaver too frequently.
Storage
We recommend storing this knit piece flat or folded over the crossbar of a hanger
The sweater is delivered in a storage box, which can be optionally used for storing
Repair
Avoid sharp edges and velcro fasteners to prevent threads from being pulled
If a thread is pulled, you can use our knitwear repair needle, in order to easily pull back the yarn to the back side of the knit piece or towards the interspace of the reversible knitwear
Size Guide
The model is wearing size M. The corresponding men's sizes range from EU 48-52, UK 38-42, US 38-42.
Although the sweater is free of elastane, the 100% natural jersey rib knit technique provides extra elasticity, compared to the jacquard and reversible doubleface knitwear.
Thanks to its natural elasticity, the sweater can expand by up to 1.0 cm, therefore you may opt for one size smaller.
To find the right size, please measure your own sweater and compare the measurements:
Place your sweater on a smooth, even surface.
For both length and width measurements, ensure that they are taken from the highest and widest sections of the sweater while it remains flat.
To measure the sleeve (3) and sweater length (1), start from where the neckline band begins and measure down to the end of the sleeve hem.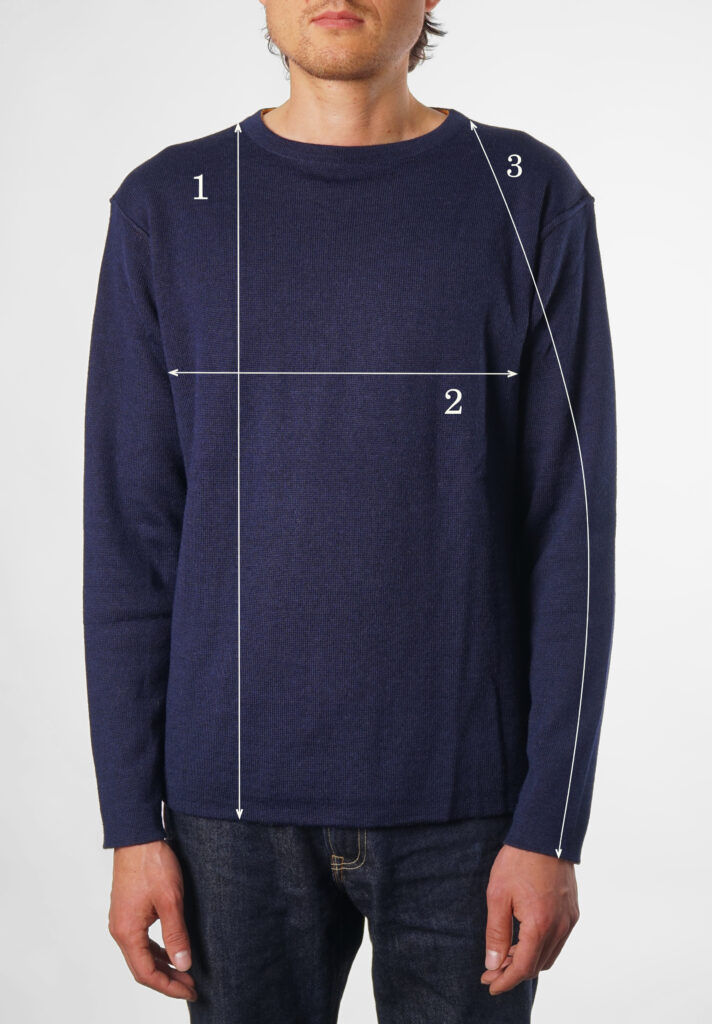 Note: Slight variations are rare, but they can occur due to production tolerances.
Philanthropy
Inspired by AYUDAME Kinderhilfswerk Arequipa e.V.'s willingness to help, for every knitwear piece you purchase exceeding a value of 200€, we will donate 5€ to the non-profit organisation AYUDAME Children's Aid Arequipa e.V. at the end of each year.
The gross price includes a customer donation of 2,50€, with the remaining 2,50€ being contributed by REH (GERMANY).
Read more about the Project
Other colours
262 €