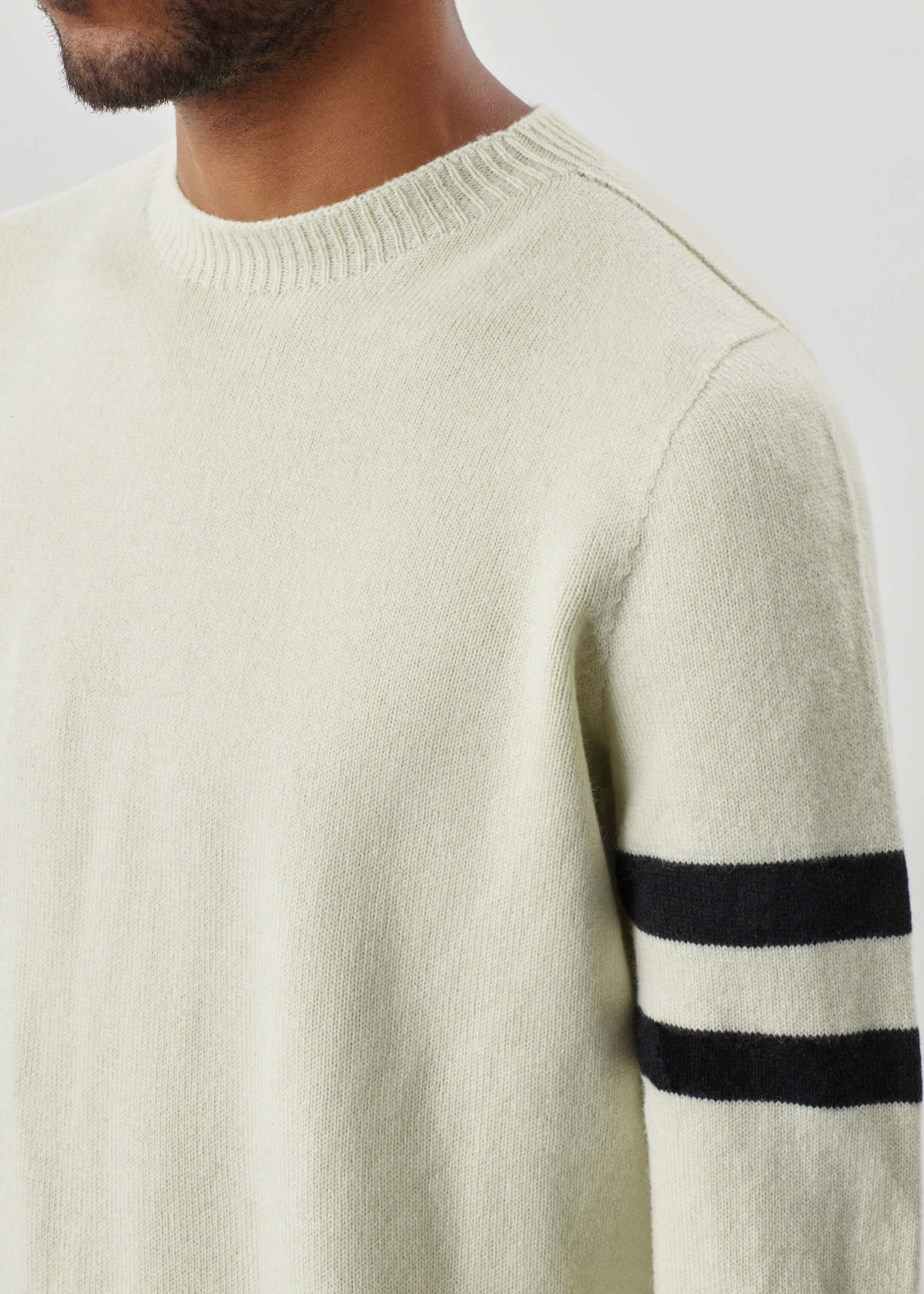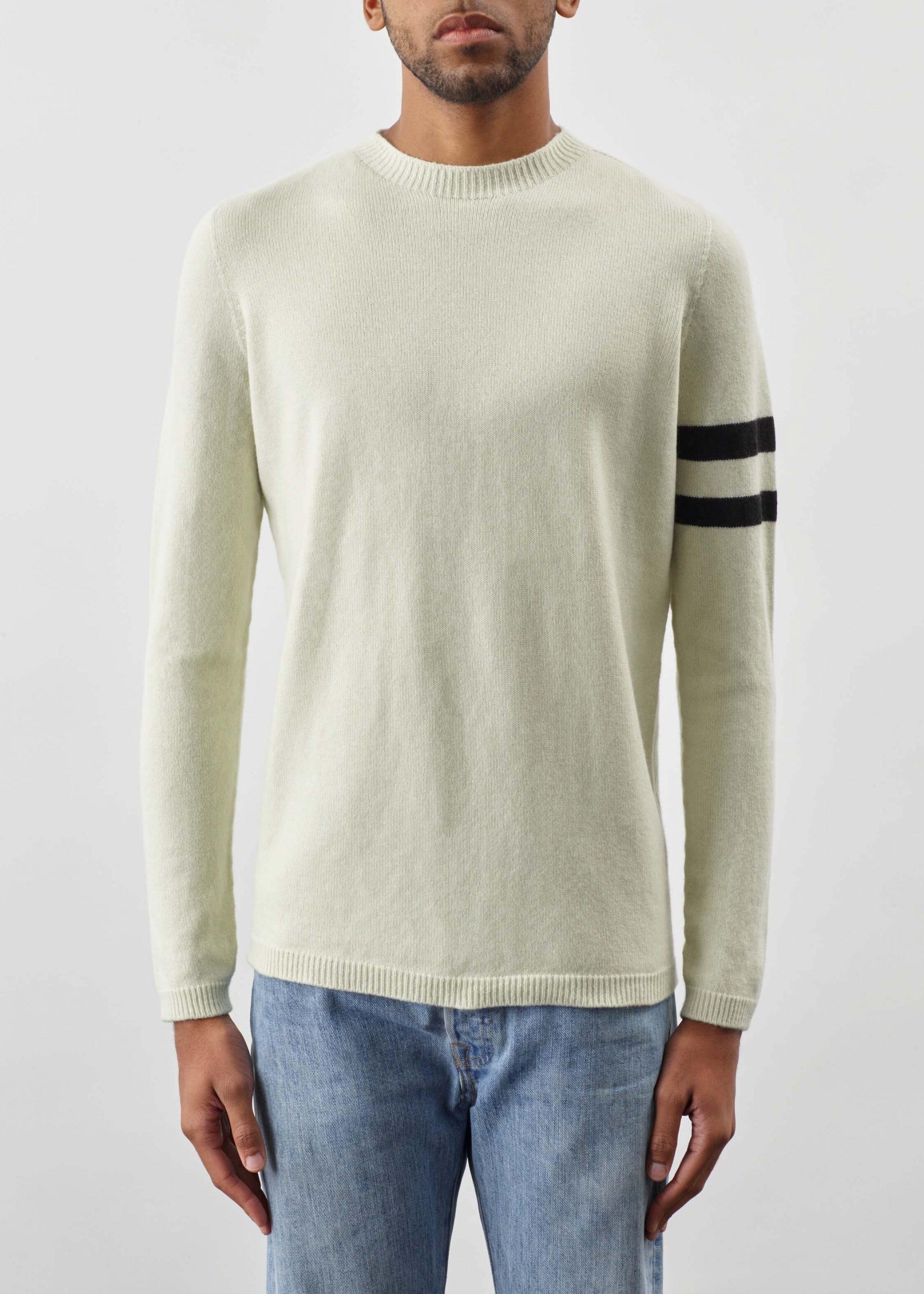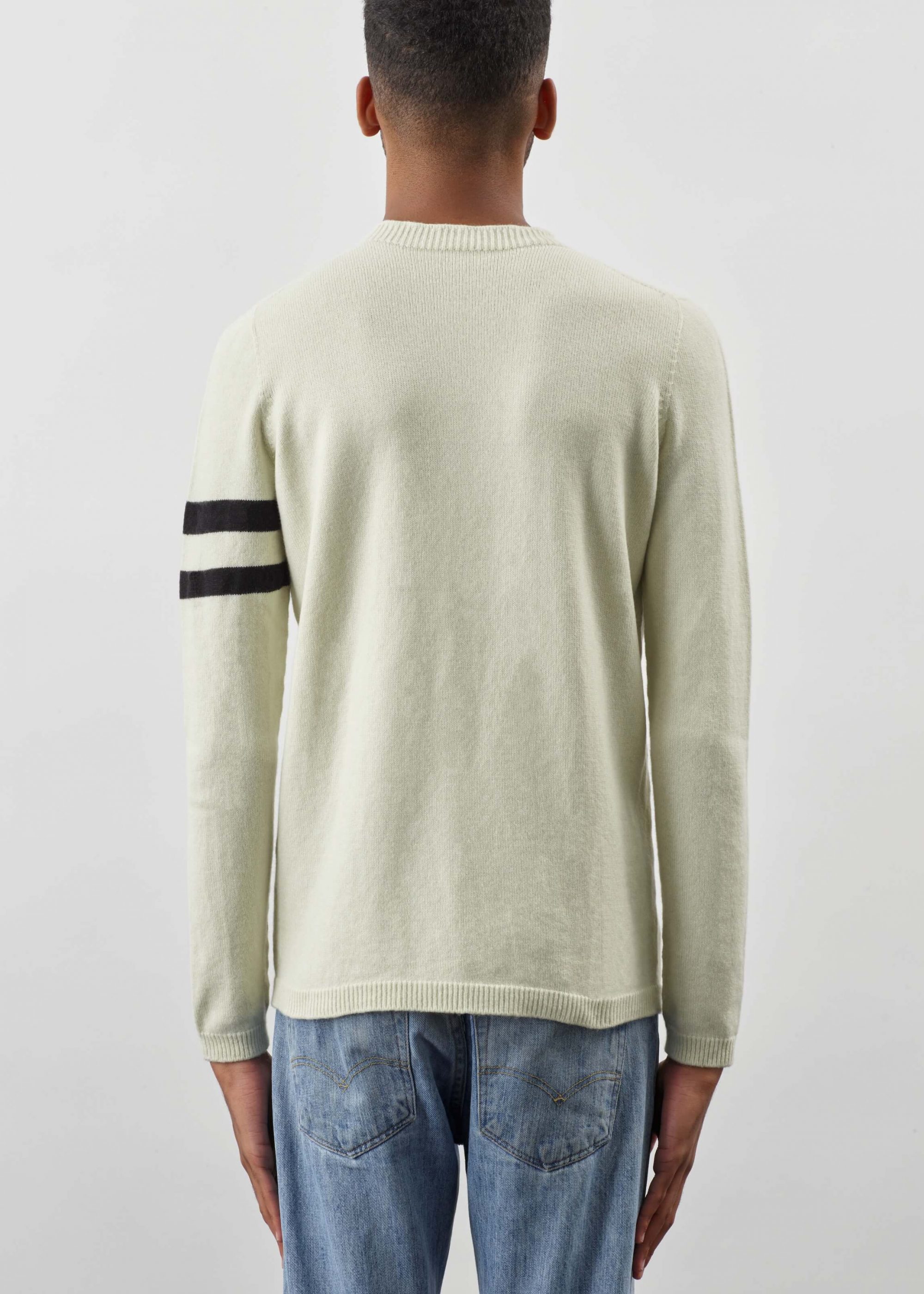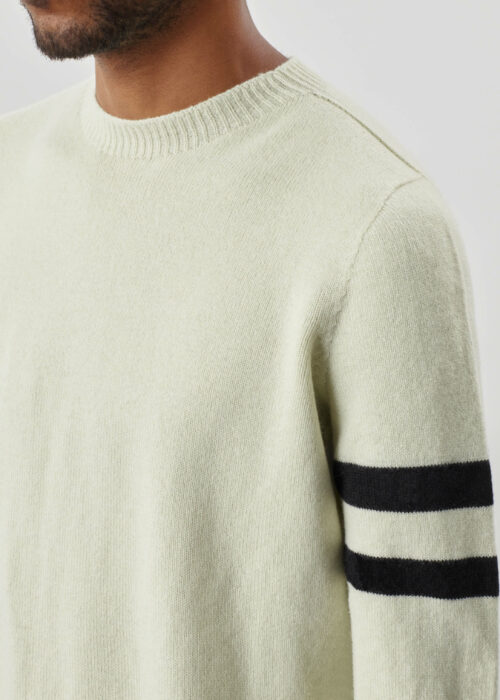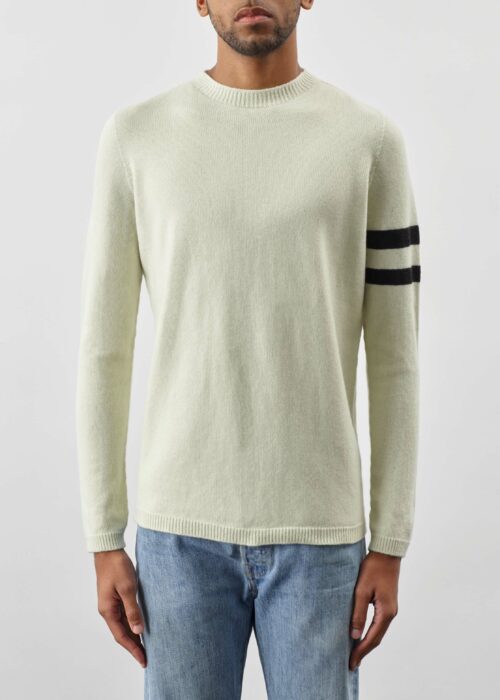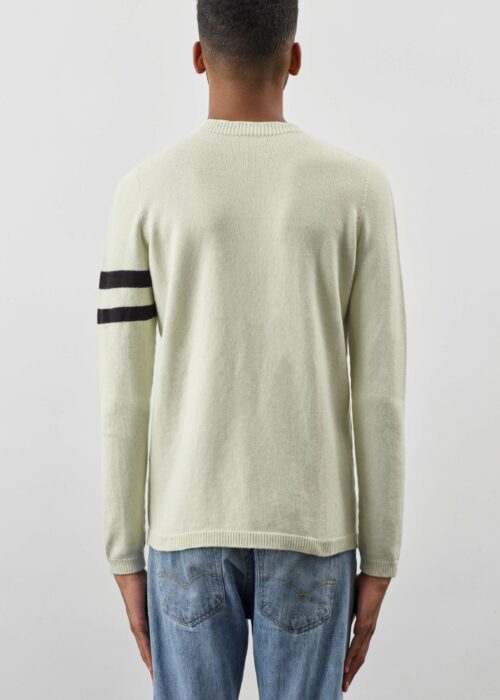 »Varsity« Ecru Black Sweater Felted Cashmere Merino
N° CKM1M
Made in Germany
Description
»Varsity« Sweater in Ecru with two black sleeve stripes is a design by REH (GERMANY). It is crafted from a softly and densely felted wool and cashmere blend. The sweater is 3D-knitted using Italian deadstock quality yarns with a Japanese Shima Seiki Wholegarment® machine in Germany. The Wholegarment® knit technique minimises waste by creating the entire garment in one seamless, three-dimensional construction on the knitting machine, thus reducing labour and material loss associated with cutting and sewing processes.
Note: As the remaining yarns have been used up, this edition is currently no longer being produced. Secure the last pieces of this unique edition while you still can.
Details
Two black sleeve stripes
Crew-neck
Very soft felted texture
Water-repellent
French seam sleeves
1×1 ribbed hemline
Material Characteristics
Felted Merino & Cashmere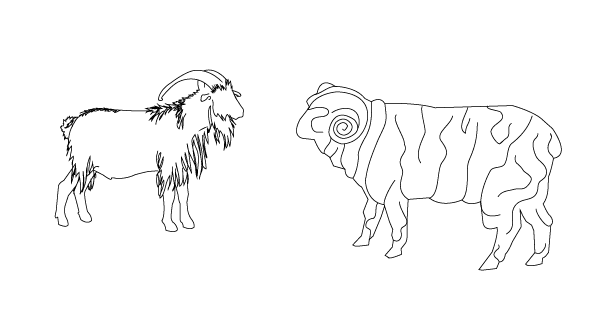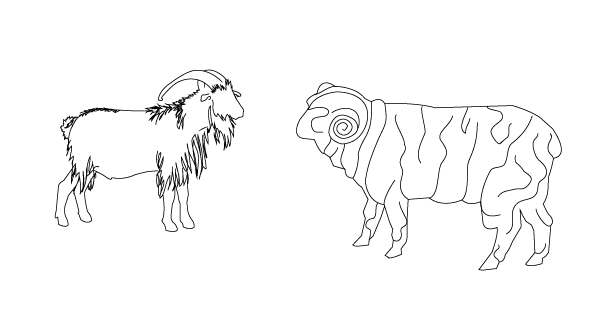 History
Merino sheep derived from the famed Royal Merino Flocks in Spain, which were later introduced into Australia, where further selective breeding soon produced the authentic and even finer Australian merino wool. Australian merino wool was predominantly used for utilitarian garments, particularly for military uniforms and work wear.
Originally, cashmere was sourced from Tibetan goats and was manufactured into fabric and wool in Kashmir. Over time cashmere goats spread to other mountainous regions, and are now most common in Mongolia and China. Cashmere fibres have no more than 19 microns and are thus one of the finest fibres that have been processed for thousands of years.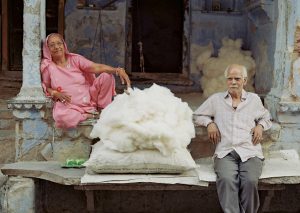 Shearing process
Typically the sheeps and goats are shorn once each year and for the welfare of the animal, the sheep and goat shearing does not take place during cold climate winters.
Sustainability & eco-friendliness
Wool is a natural and renewable resource. Both merino superfine and cashmere wool are not as durable as alpaca fibre, since the sheep and goat fibres have a tendency to felt when washing or when sweating below the armpits. In order to provide long-lasting merino and cashmere knitwear, R.EH went through a tedious design development of felting the seamlessly knitted pullovers, hats and scarves. Through the felting process the quality of the merino-cashmere blend increases in value and results in a high-quality material that lasts for many decades.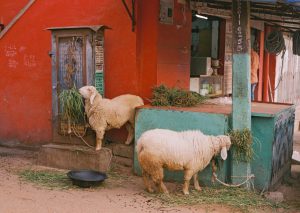 Special features
The densely felted blend of merino superfine and cashmere wool is best qualified for outdoor activities, due to its windproof and water-repellant quality and due to having superior thermal insulating properties.
The soft wool and cashmere felt is itch-free, highly resilient and wear resistant, retaining its strength and unique properties for decades.
The felted wool blend is a renewable and environmentally friendly resource.
It is resistant to chemicals, ignition, shrinking and wrinkling.
Haptic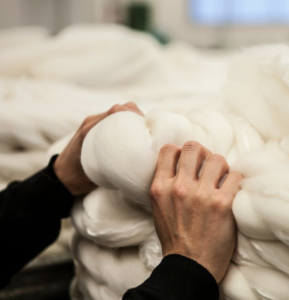 The medium thick blend of merino superfine and cashmere has an very soft and fluffy surface, providing a pleasant and itch-free wearing comfort.
Spinning mill – Italy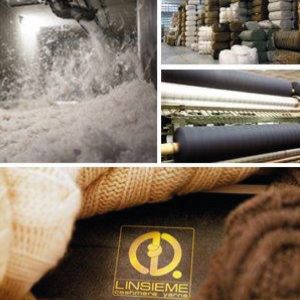 The precious blend of merino superfine and cashmere is sourced from the high-end spinning mill Linsieme Filati, a specialist for pure and blended cashmere yarns since 1979. The types of cashmere used in Linsieme Filati yarns strictly come from China and Mongolia and are carefully selected by the company. With accurate attention Linsieme Filati as well sources the best selections of Australian merino wool. Furthermore the spinning mill has a vertical control of the different production phases such as carding, spinning and winding and therefore could refine and enhance the quality of the yarns. Linsieme Filati also succeeded in intensifying its efforts in ecological production and distribution of the yarns, considering the health of final consumers and the environment.
Knitwear manufacturer – Germany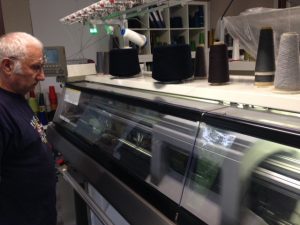 Finding a knitwear specialist in Germany, who produces small quantities for fair prices, is a rarity worthy of note. The sole trader Mr. Tatewos discovered his enthusiasm for producing knitwear whilst working as a translator in Leipzig. He moved to Japan to learn how to work with Shima Seiki Wholegarment® machines and since 1990 he works with these machines outside of Berlin. The 3D seamless knitting technology is a highly sustainable way of producing garments, as it minimises waste by knitting the entire garment in one process without seams in a three-dimensional construction on the knitting machine, thus reducing labour and material loss associated with cutting and sewing processes.
FABRIC
70% wool (merino superfine)
30% cashmere
BRAND LABEL:
Premium warp sateen, real selvedge, 100% Polyester
CARE LABEL:
100% cotton
HANG TAG:
100% recycled cardpaper
100% waxed cotton
PRODUCT BOX:
100% recycled cardboard
PACKAGING:
100% recycled cardpaper
Care
Hand wash (30°C)
Avoid wringing
Cold Rinse
Lay flat to dry
No heat when drying
Dry cleaning
Size Guide
SIZE S:
Pullover length: 62 cm
Hem width: 46 cm
Sleeve length: 60 cm
SIZE M:
Length: 65 cm
Width: 47 cm
Sleeve length: 63 cm
SIZE L:
Length: 70 cm
Width: 48 cm
Sleeve length: 66 cm
NOTE:
Knitwear is stretchy. Lay down a pullover on a flat surface. Measure the sleeve length from the tip of the shoulder to the hem of the sleeve. The length and width measurements are taken from the highest and widest points of a flat lying pullover. Slight deviations are rare but possible due to production tolerances.
Philanthropy
Inspired by AYUDAME Kinderhilfswerk Arequipa e.V.'s willingness to help, for every knitwear piece you purchase exceeding a value of 200€, we will donate 5€ to the non-profit organisation AYUDAME Children's Aid Arequipa e.V. at the end of each year.
The gross price includes a customer donation of 2,50€, with the remaining 2,50€ being contributed by REH (GERMANY).
Read more about the Project.
Other colours
185 €