Berlin, November 2020 by Eliza Helmerich
Best Kimichi Recipe
Serendipity: bacteria instead of viruses
Serendipity is my favourite word, because the word defines the accidental observation of something not originally sought after, which with a little attention and curiosity turns out to be a new and surprising discovery, insight or solution. I'm thinking about serendipity again as I write this article because when I created the DIY Kimchi Food Editorial with black ceramics this past summer I was not really aware that Kimchi (pronounced: gimchi) – so-called Korean fermented vegetables – was being tested as a preventive measure against Covid-19.
My partner is part Korean, and home-made Kimchi is regularly on our table. It has become so commonplace that I never really question it, so I am all the more pleased to discover that kimchi, with its high antioxidant content, has a particularly immune-boosting effect. The interdependence and interaction between nature and humans is fascinating to observe each time anew. Perhaps this gives us a hint that there are probably many other answers in nature and therefore in ourselves.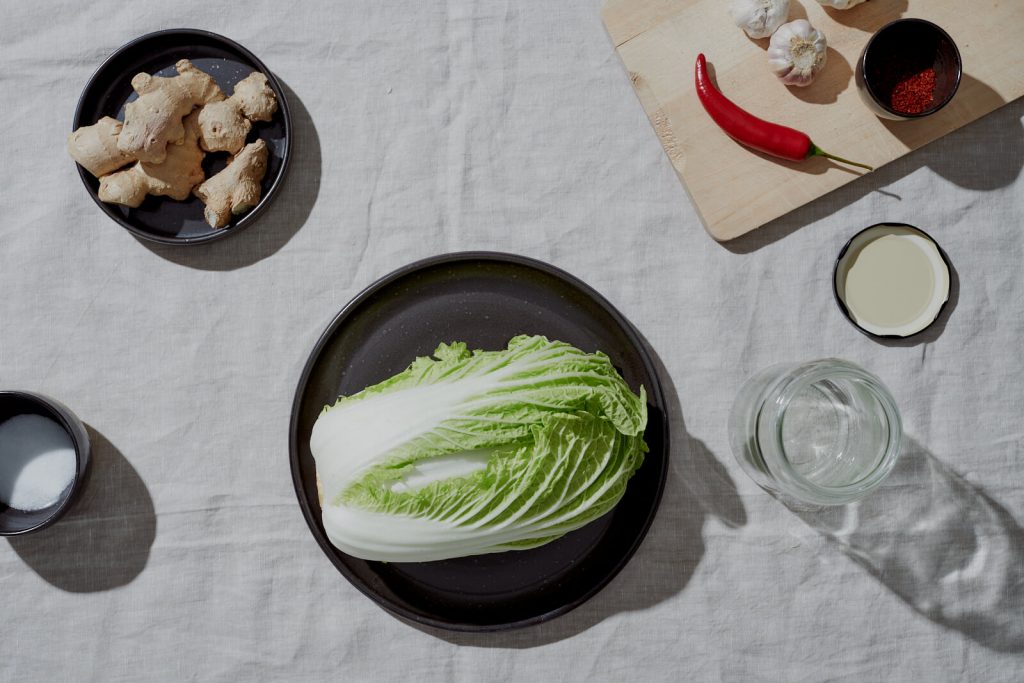 Chinese napa cabbage for traditional Kimchi preparation
Kimchi – Korean fermented vegetables with a thousand years of history
Many cultures incorporate natural fermentation into their culinary traditions. For instance, the German equivalent to Kimchi is Sauerkraut. Korean Kimchi has become a popular and world-famous dish from the Korean kitchen in recent years. It is composed of fermented vegetables, mostly Chinese napa cabbage (70%) optionally mixed with radish, spring onions, carrot and a special seasoning paste made from salt, garlic, ginger and Korean chilli flakes.
Fermentation is a millennia-old method of preserving food by fermentation. The vegetables are fermented by bacteria without the presence of oxygen. Lactic acid bacteria live on the carbohydrates contained in vegetables and break them down into lactic acid. The lactic acid in turn preserves the vegetables and gives them their unique sour, crunchy and refreshing taste. The valuable vitamins (A, B1, B2 and C), fibre and minerals from raw vegetables are preserved in fermentation.
The dominant colours of Kimchi have changed over time. Until the 17th century, kimchi was white. Red chili peppers were first imported from Portugal via Japan and revolutionised Korean cuisine. Kimchi also varies is terms of recipes and flavours, different according to region, ingredients, season and duration of fermentation. Kimchi is now served at almost every meal in Korea and used to be pickled in large quantities, especially in November to December, as a stockpile for the long and hard winter in Korea. This traditional dish is not only served as a side dish with fish, meat, tofu, appetisers and the like, but also as a Kimchi rice pan, kimchi soup, kimchi stew and much more. The fermented cabbage and garlic-ginger mixture is therefore not only a tasty winter/ lockdown stock and base for cooking, but above all it stimulates the metabolism and digestion and activates body's own defense system against viruses.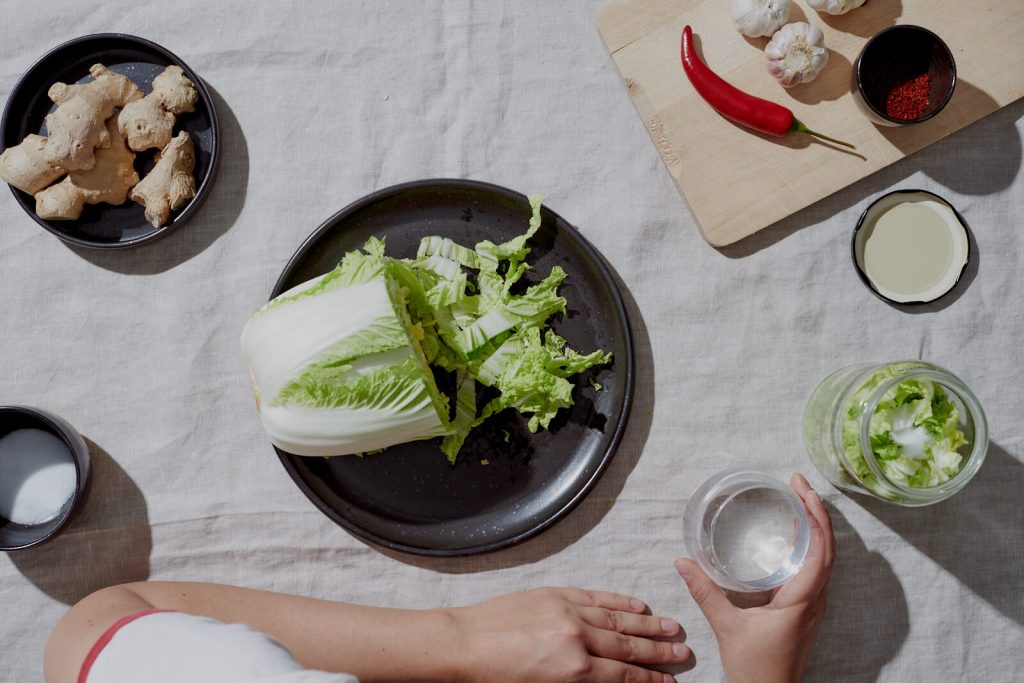 Traditional Napa Kimchi
Kimchi: simple, fast, healthy and inexpensive
While we're all waiting for the long-awaited corona vaccine over the next few months, perhaps we should all indulge in an antiviral soul food self experiment for a change and conjure up a super-aromatic Kimchi. Since a strong immune system can effectively ward off viruses and infections.
I must honestly admit that for years I thought sauerkraut and kimchi were so tedious, complex and labour-intensive to prepare that I prefer to leave it to professionals. Instead, my prejudice did not prove true, because Kimchi preparation is very simple, fast and above all, inexpensive if you ferment it yourself. 
During the Kimchi fermentation, I thought to myself that if I were a vegetable dish, I could identify with Kimchi very well. Fermenting vegetables is similar to hatching an idea. The longer you tweak the idea or develop a well-made product – the better it seems to get. Long-lasting feelings of joy, trust and calmness are spreading and despite the 1-10 days of maturing time you save a lot of time in the long run.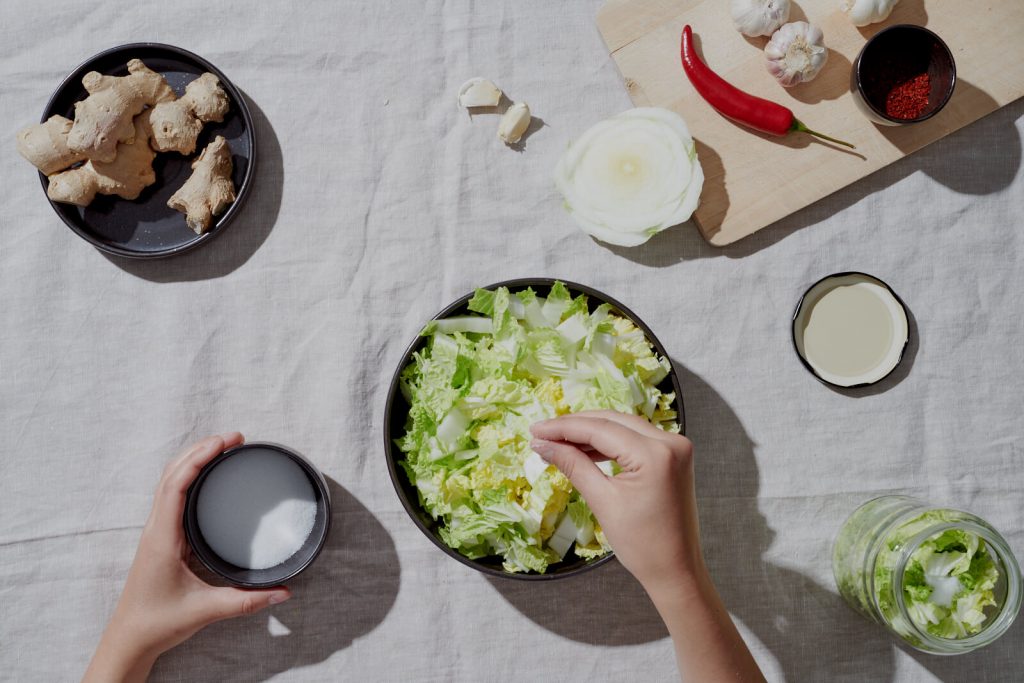 Chinese cabbage brine
Vegan Kimchi ingredients and preparation
_Preparation
Use a hot washed clean preserving jar.

Wash the Chinese cabbage and cut it into large 1-2 cm wide pieces.

Fill a bowl with lukewarm water and salt it with 2 tablespoons of sea salt. Add the Chinese cabbage to the brine and knead lightly with your hands. Then leave the napa cabbage in the brine for 1-3 hours or overnight.

Once the cabbage leaves have softened, you can cut 1-2 cm of ginger and 5-10 cloves of garlic into fine pieces. Then mix with 2 tablespoons of Gochugaru (Korean chili flakes) and 4 tablespoons of Usukuchi (light soy sauce). Mix with 2-3 tablespoons of water to a consistency like salad dressing. Optional: 4 tablespoons vegan fish sauce, 4 tablespoons sugar.

Cut a carrot into small pieces, the same quantity for the radish and a spring onion and mix with the spicy seasoning sauce.

Remove the napa cabbage from the brine and rinse with a little water. Mix the spicy seasoning with the cabbage in a bowl and then pour into a preserving jar. The kimchi should always be covered with liquid.

It is best to let it ferment for 1-3 days in a shady place at room temperature and then store it in the refrigerator.

The kimchi tastes rather mild after 1-2 days and develops more acidity and its strong kimchi flavour over time.

The kimchi can be eaten the day after, but tastes more intense after 7-14 days when the vegetables have fermented. The kimchi can be kept for 2-3 months.

Inspired by the black dolsot (stone pot), in which bibimbap is usually served, I prepared and served the kimchi in black hand-thrown ceramics.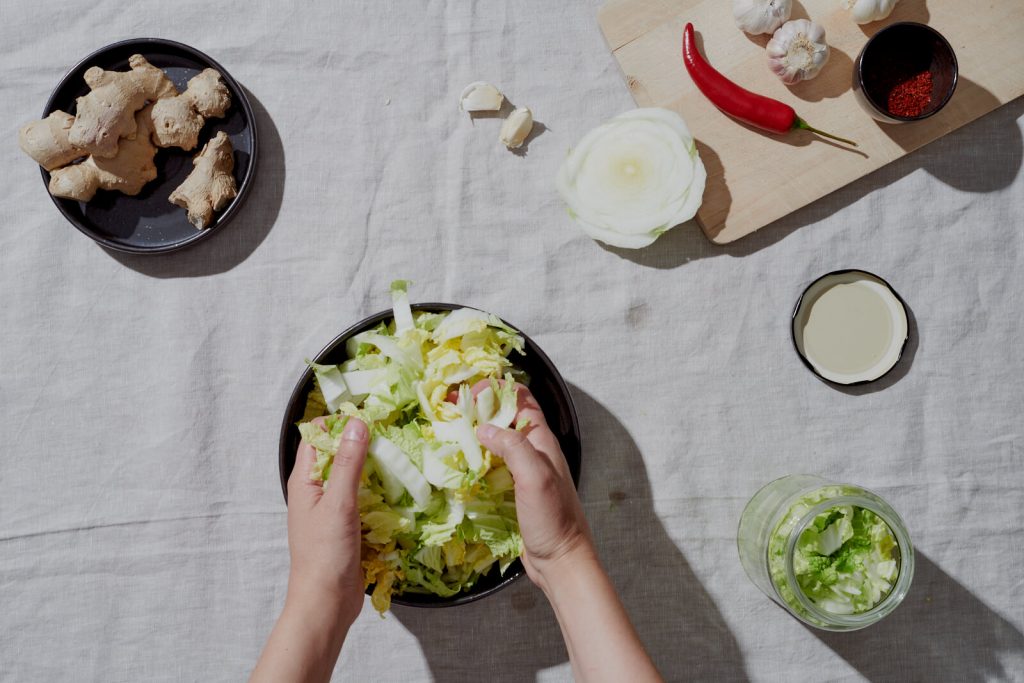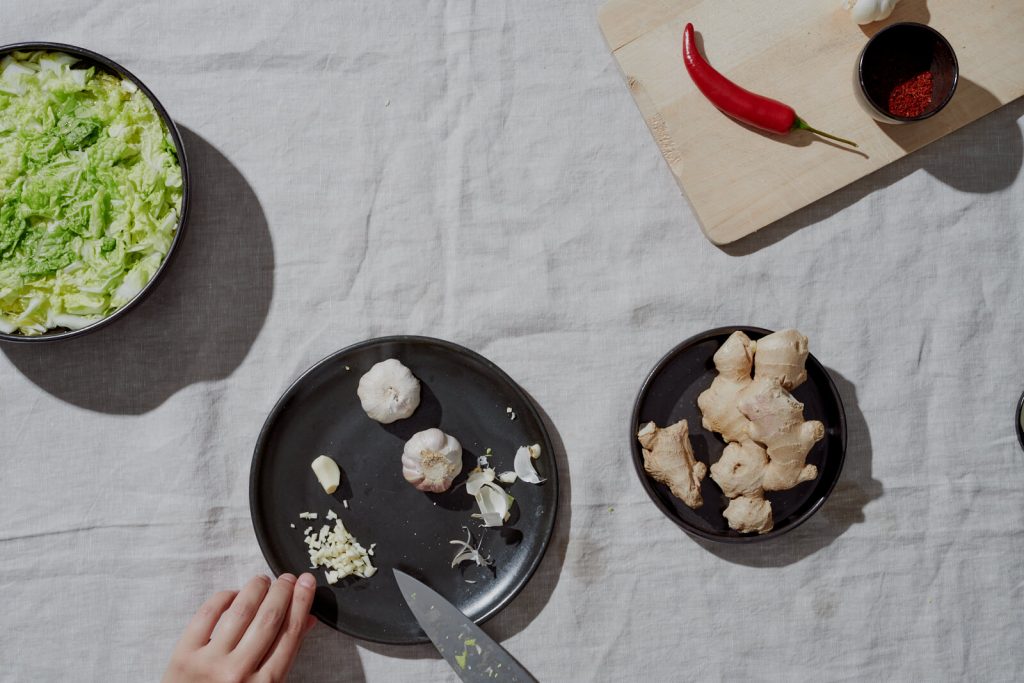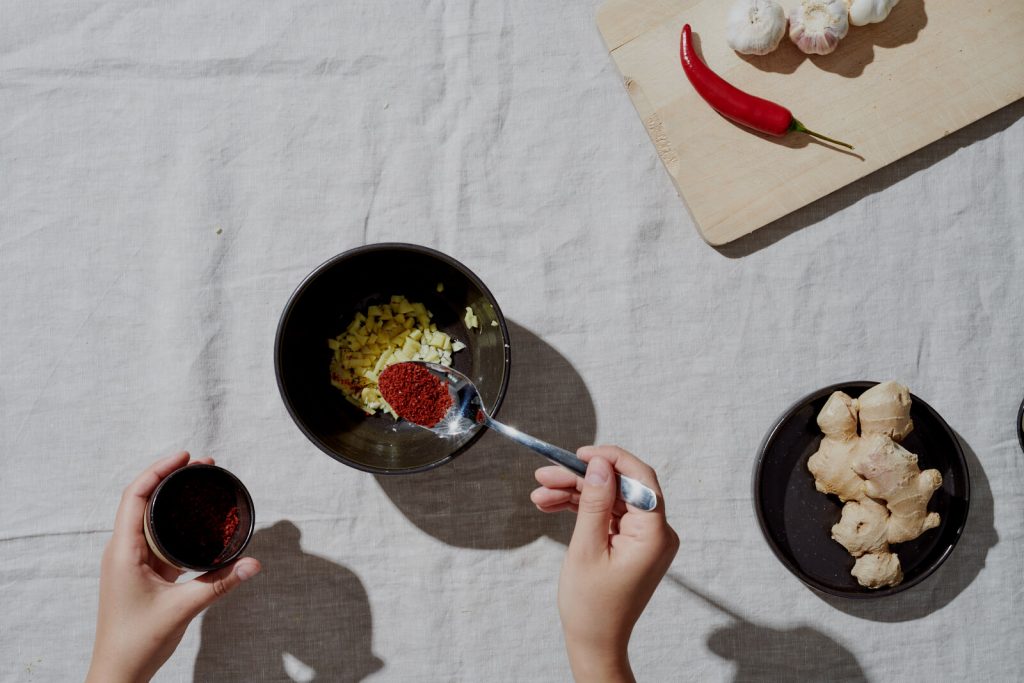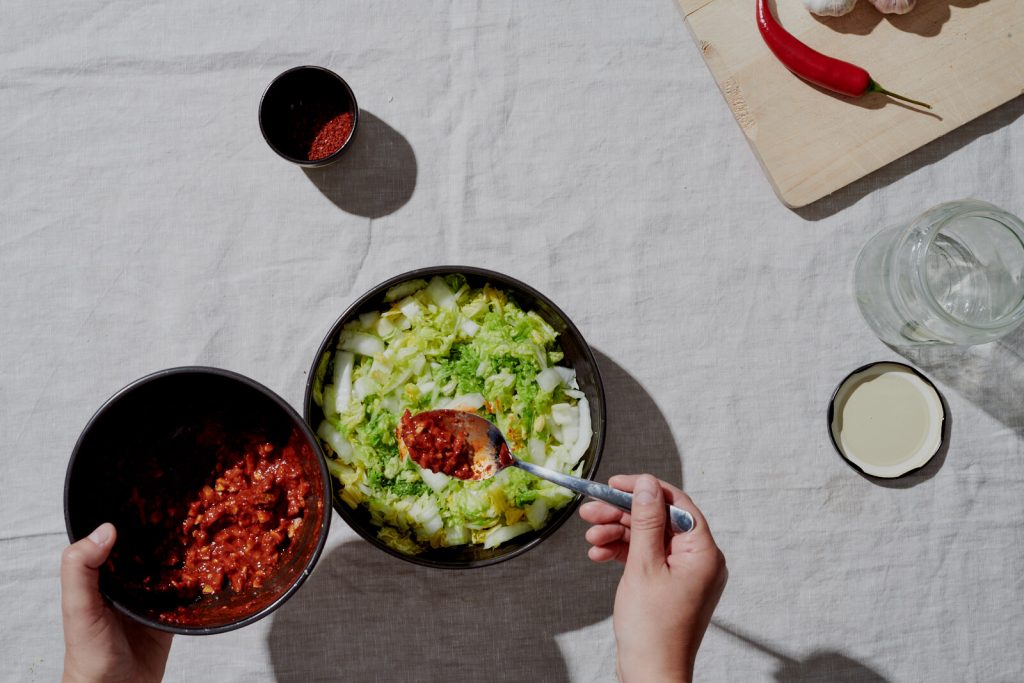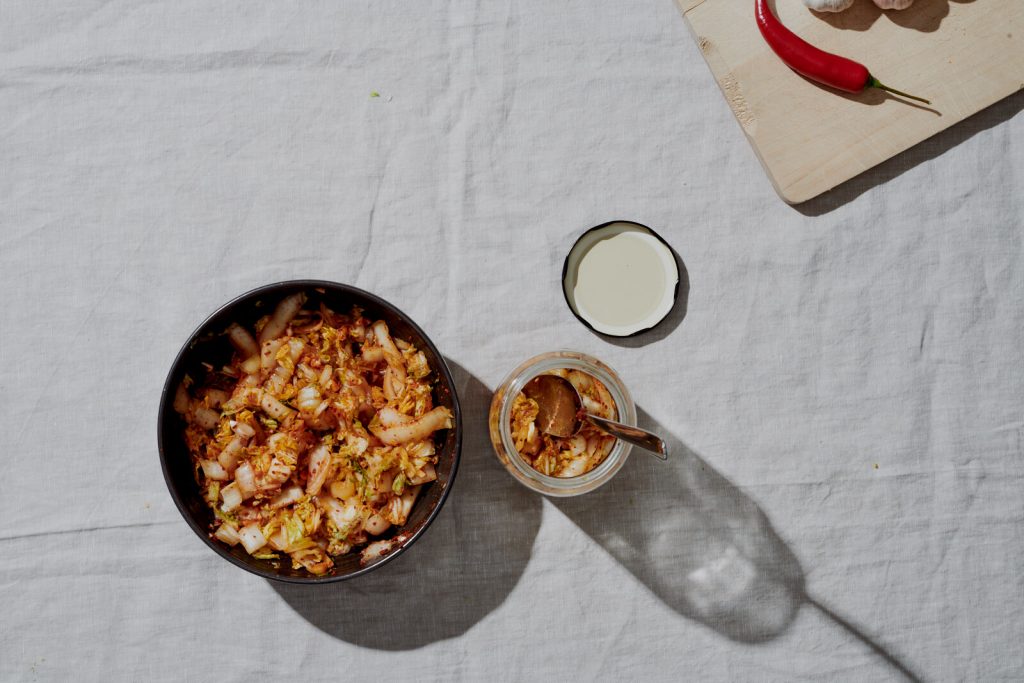 Large Black Wholy Bowl designed in cooperation with the vegan cookbook author Jessica Prescott
Granny's Kimchi recipe:        
_Ingredients
For a medium sized preserving jar of Kimchi
1 x head of Chinese napa cabbage
2 tablespoons of sea salt to marinate the Chinese cabbage
5-10 x cloves of garlic
1-2 cm fresh ginger
2 tablespoons Gochugaru, Korean chili flakes
4 tablespoons Usukuchi (Light Soya Sauce)
2 ½ tablespoons of water
Optional: 1 x carrot, 1/4 x radish, 1 x spring onion
Optional: 4 tablespoons vegan fish sauce, 4 tablespoons sugar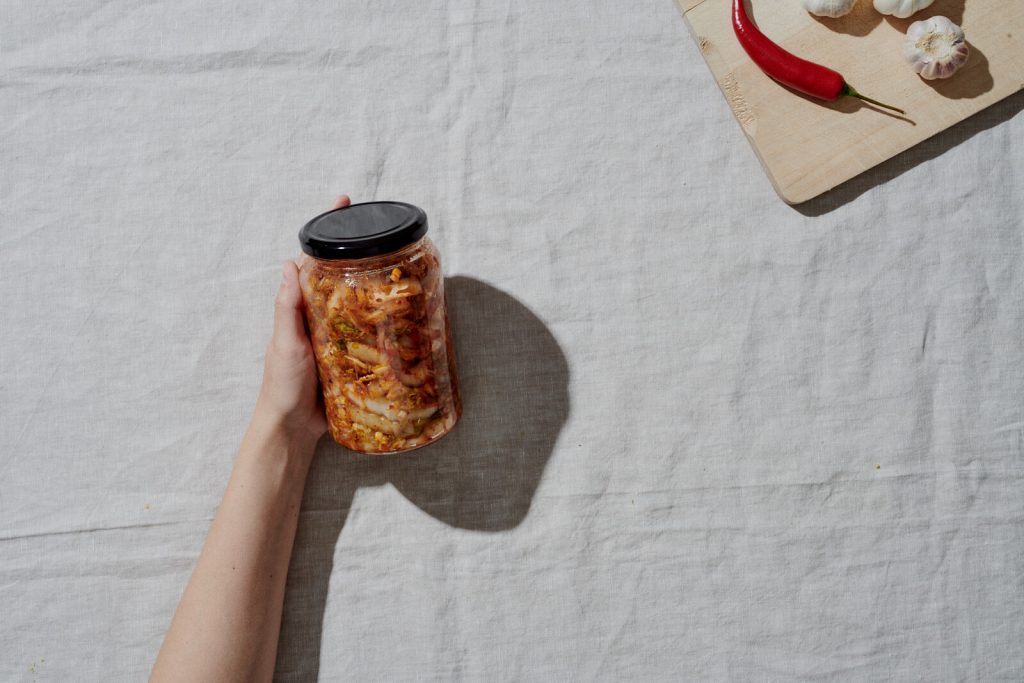 Photography, Kerstin Mueller